Thumbprint Cookies: The Ultimate Guide for Cookie Lovers
Looking for a delicious treat that can satisfy your sweet tooth and impress your guests? Look no further than thumbprint cookies! These bite-sized delights are perfect for every occasion, from afternoon tea to holiday parties.
Order Cookies for Your Office Staff
Need sweet treats to bring to your next office event? Want to treat your staff? We've got you covered! With our delicious handmade Thumbprint Cookies, your coworkers will keep coming back for more. You'll be the talk of the workplace! Skip all the hassle and mess— just order online for cookies delivered straight to your office!
Gift Him a Dozen Cookies
Want to send someone an extra special gift? Forget about store-bought chocolates. Order our freshly baked Thumbprint Cookies to WOW your friends and family! Our cookie dozens will show how thoughtful and sweet you can be. Order cookies online to send a batch right to your loved one's door. It's the best way to say "I love you!"
Thumbprint Cookies Delivered Anywhere
Who wouldn't want cookies delivered to their doorstep? With our convenient Thumbprint Cookie online delivery, indulge in our crumbly, world-famous cookies without ever leaving your home. In just a few clicks, they'll be delivered via USPS. You won't have to lift a finger. Well— besides opening your cookie gift box. Order online today!
Bring Cookies to a Holiday Party
Our customizable cookie batches will absolutely liven up your next holiday gathering. Just order online and we'll create a batch of custom-colored cookies for your next party. You'll have no problem standing out from the crowd with these distinctively sweet cookies. Skip the annoying all-day baking process and let us do the work for you. Heck, we can even deliver cookies straight to your party's address.
Treat Yourself with a Dozen Cookies
Cookies… Delivered directly to your doorstep… What could be better? Order online for deliciously handmade and crumbly cookies delivered right to your hands. After all, there's nothing better than a sweet and comforting treat to show yourself a little love. You can even order yourself sweet treats every month, all year long!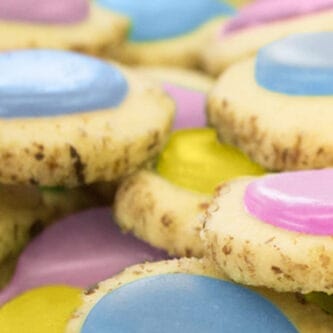 Ship Cookies
Give the gift that keeps giving, a gift card form the Village Bake Shop! Gift to your self or your friends and family.
Today the day! Send and email gift card just in time for that special day. Todays not that day? Well you can schedule the e-gift card to email or text them on their special day. Do it why you still remember.
Get E-gift Card