Cookies
Indulge in our world famous Thumbprint cookies or our classic chocolate chip. Having a party? We can decorate sugar cookies with themes and characters.
Thumbprint (Tea Cookies)  $0.79 ea / $7.95 / doz
Sugar Cookies  $0.99 ea / $7.99 doz
Iced Sugar Cookies  $2.99 ea
Chocolate Chip  $0.99 ea 
Decorated Chocolate Chip  $27.99 12" / $29.99 14"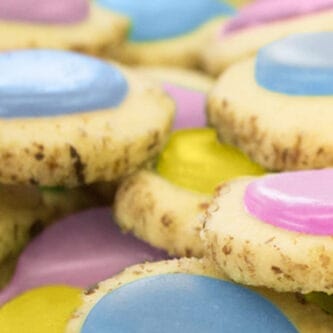 Ship Thumbprint Cookies
We ship our famous Thumbprint Cookies straight to your doorstep! Complete your next family gathering or holiday party with a Christmas Tin full of Thumbprint Cookies. They're oh-so-delicious!
Ship Cookies