Thumbprint Cookie FAQs
Have Thumbprint Cookie Questions?
We've got answers! Here are a few common questions and answers regarding our world-famous Thumbprint Cookies from the Village Bake Shop in Cleveland, Tennessee. If all else fails, you can always call us at 423-476-5179.
What are Thumbprint Cookies?
Thumbprint Cookies are a special type of shortbread cookie topped with a bright dash of icing. These half-dollar-sized cookies have been enjoyed for decades in Cleveland, Tennessee. Now, we ship them all over the world! Our Thumbprint Cookie dough gets rolled into small bits with a thumb-like indentation in the center. Then, we top each cookie off with a drop of delicious and colorful icing.
What are other names for Thumbprint Cookies?
Other names for small shortbread Thumbprint Cookies like ours include: tea cookies, butterballs, jam drops, Mexican wedding cookies, and bird's nest cookies.
What is the famous Thumbprint Cookie recipe?
Our Thumbprint Cookie recipe is a family secret, so we can't exactly spill everything. But we can say this: our Thumbprint Cookies have become a fan-favorite... and for good reason. Order yours today!
What are our Thumbprint Cookies ingredients?
We make our Thumbprint Cookies with real, all-natural ingredients like flour, butter, and sugar. And of course, we do include a secret ingredient that makes our cookies better than all the rest. Let us know if you can taste the difference.
Do Thumbprint Cookies ship well?
Yes. Firm and sturdy cookies are the best type of cookies to ship, so our Thumbprint Cookies handle the trip well. We'll package them carefully as we quickly process your order. You can typically expect a delivery from USPS between 2-4 days after you place your order.
How long do Thumbprint Cookies take to deliver from the Village Bake Shop?
We ship our cookies with USPS, so you can typically expect a delivery between 2-4 days after you place your order. You also have the option to choose USPS Expedited Delivery.
Can I ship cookies to another state as a gift?
Absolutely. To ship cookies to another state, just place the shipping address of the home you want to send during checkout. If you wish to send cookies to multiple addresses, you will have to complete your first order, and then begin a new order with the next address you wish to send an additional batch of cookies. 
Do you offer Expedited Cookie Delivery from USPS?
Yes. We currently use USPS priority mail so you can get our delicious Thumbprint Cookies as soon as possible. Choose USPS expedited delivery for an even faster shipment.
Why are they called Thumbprint Cookies?
Thumbprint Cookies originally got their name from bakers who pushed their thumb down into the cookies, creating a small indentation in each one. So, Thumbprint refers to the way a thumbprint was once used to make these delicious cookies! These days, when making our crowd-favorite Thumbprint Cookies, we roll them into a ball, flatten them a bit, adding that famous small dent in each one. It makes the perfect spot to put our vibrant and tasty icing!
How long will Thumbprint Cookies stay fresh?
When stored properly, our Thumbprint Cookies can stay fresh for 5-7 days. Make sure to store your cookies in an air-tight container at room temperature. You can also separate each layer of cookies with wax paper (something we do in our packaging) to keep them from sticking together and falling apart.
What texture are Thumbprint Cookies?
Thumbprint Cookies from the Village Bake Shop are typically soft and crumbly, yet slightly firm. They are basically shortbread cookies with a drop of icing on top. They're delicate and crumbly, which makes for a delicious texture. Bet 'ya can't just eat one!
Do you offer Thumbprint Cookies with jam?
No, that's not our jam. Other bakeries slather jam and jellies atop their shortbread cookies. But, instead, our Thumbprint Cookies are topped with colorful and tasty icing that makes them perfect for all tastebuds and events. This helps them stay fresh longer and they ship better, too.
Can I order Thumbprint Cookies with chocolate?
Right now, we do not offer Thumbprint Cookies with chocolate. We do, however, offer a Thumbprint Cookie full of colorful and delicious icing that makes for a beautiful plate at parties. Choose between various icing colors including pink, green, and blue to satisfy the theme of your next gathering.
Are you selling peanut butter Thumbprint Cookies?
Well, we tried peanut butter Thumbprint Cookies once. It didn't work out. Instead, we offer our signature vanilla shortbread cookies, topped with super sweet icing in a variety of colors. They're perfect for any event.  
What about raspberry Thumbprint Cookies?
No. We don't offer raspberry Thumbprint Cookies, we rather keep it classic. So, instead, our signature vanilla shortbread cookies are topped with a dash of delicious icing. If you can't decide which color, go with our best-selling assorted color option to taste our entire cookie lineup!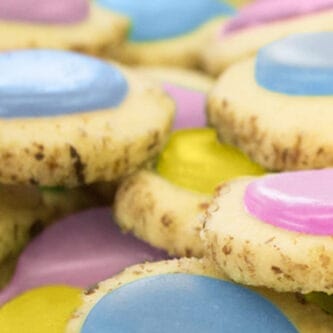 Ship Cookies
Give the gift that keeps giving, a gift card form the Village Bake Shop! Gift to your self or your friends and family.
Today the day! Send and email gift card just in time for that special day. Todays not that day? Well you can schedule the e-gift card to email or text them on their special day. Do it why you still remember.
Get E-gift Card