About the Village Bake Shop
50 years ago, Arthur and Jo Gilbert founded the Village Bake Shop. It's hard to believe the location of the Village Bake Shop, which is one of the most prosperous parts of our community, was once just a farmland! Fifty-two years later, the legacy and traditions started by Arthur and Jo still exist – and the Village Bake Shop is helping to cure our community – one sweet tooth at a time!
To say this business is "homegrown" is an understatement. Teresa Gilbert, the daughter of Arthur and Jo, now manages the bake shop with the help of her family and good friends.
Because of leadership provided by Teresa, the same delicious recipes and unbeatable customer service can still be found today. Teresa gives her mother and father all of the credit for teaching her their flawless techniques when baking this community's sweetest treats. Teresa gives much credit to her mother, Jo. "My mother didn't want me to work in the bake shop at first. She didn't want me to have to work as hard as she always had to, but I knew I wanted to work just as hard as my parents always had to keep the legacy going," Teresa said proudly.
Arthur Gilbert decided to open up his own bakery after working in the food industry for many years. He worked for the 5th Avenue Hotel restaurant in Knoxville and traveled with the business baking pies. He then obtained a job working for another Knoxville favorite, The Federal Bake Shop – where his talents became recognized. Arthur's pies and cakes were highlighted every week in the local newspaper. After this great success, he opened up the
Village Bake Shop, and the shop has been growing ever since!
Over the 52 years of the Village's existence, the Gilbert's have helped generations of families find their perfect pastry. "We have been able to work with many generations of families throughout the area," said Teresa. One long-standing tradition of the Village Bake Shop has always been treating their customers with hospitality and respect. Jo recounted a heartwarmingstory about how the Village Bake Shop has grown with the Cleveland community. "I once had a mother come to the shop with her child. She told me how her mother used to bring her into the bake shop and told us stories about how we put some icing on her finger for her to taste. Now, she is bringing her child in for the same experience!" said Jo.
The Village Bake Shop offers any and every mouthwatering treat you could imagine. From wedding cakes to cookies, every treat at the Village Bake Shop is sure to leave you wanting more! Their most famous item is without a doubt the thumbprint cookies. These light and flaky cookies topped with colorful icing are famous in Cleveland. These cookies have even made their presence known around the world. The Village Bake Shop ships cookies to over 500 customer addresses all over the United States and beyond! The thumbprint cookies aren't the only delicacies the Village Bake Shop is famous for. A close second favorite is the Village Bake Shop chocolate burgers. These thick doughnuts stuffed with white crème and glazed with chocolate frosting are considered a heavenly experience for doughnut connoisseurs everywhere.
When it comes to weddings, the Village Bake Shop is the place to go to make every bride and groom's sugary dreams come true! A little known fact about the Village Bake Shop is their team of skilled baker's with abilities to build sculpture cakes for any occasion. From a cake in the shape of a Starbucks® coffee cup to cakes with simple and elegant scrolling on the side – the Village Bake Shop can custom-build anything! Does your groom idolize a favorite sports team? You're in luck! The Village Bake Shop once created an amazing Georgia Bulldog groom's cake – so, they are sure to make every man's sports dreams come to live on his special day. "Our customers have become our family, so we work to build the cake they want. We encourage customers to make the cakes their own – and we make sure to detail it to our customer's taste," ensures Teresa. Teresa also let us in on a little secret–when ordering a cake from the Village Bake Shop you can also work with the Bald Headed Bistro for catering. This is a true match made in heaven!
"We grow more and more every year! We started out building on a farmland, and now our business has transformed into a thriving one," said Teresa. The Village Bake Shop is proof that hometown businesses–baked with love and Southern hospitality–can still prosper in this ever-changing world.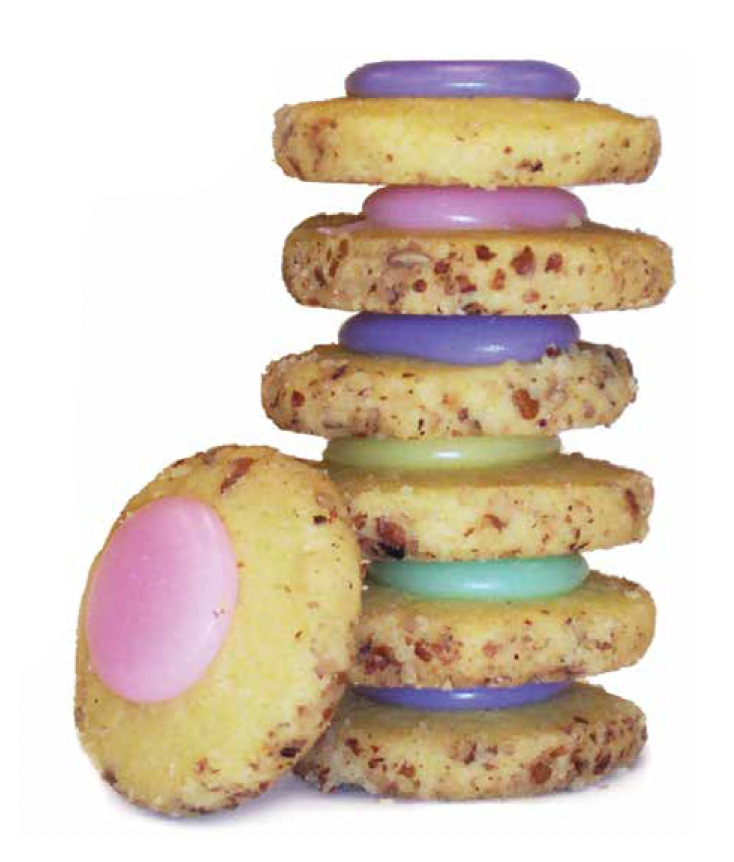 We Ship Cookies
The Village Bake Shop in Cleveland, TN has been the community bakery for 50+ years. And now we can ship thumbprint cookies to your doorstep!
You can order online and we can ship nearly anywhere in the world! Send Thumbprint Cookies as a gift or order a dozen for your next family gathering.
Ship Cookies